2018 NC 4-H Citizenship Focus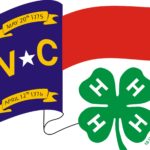 Martin County 4-H is at the starting line getting ready for our summer enrichment day camps. We are preparing and planning and making sure everything is right for our youth to learn and have fun this summer. Martin County 4-H is also in the process of preparing for leadership events on the District and State levels of North Carolina 4-H as well.
One of the events that is coming up, June 13 – June 15, is North Carolina 4-H Citizenship Focus. This event is for youth 13-18 years old and revolves around civic education. This year, two Martin County 4-H'ers will be traveling with Susan Tyre, Martin County 4-H Agent, to Raleigh, NC to spend 3 days learning more about our government.
Andrew Brownfield and Alexandra Veverka will be spending time in workshops learning more about laws, business, and how the North Carolina Legislature operates. They will visit with our Legislative representatives and discuss youth issues going on in North Carolina.
These youth are looking forward to reporting back to our county, the things they have learned. For more information on Martin County 4-H Citizenship events and projects, please contact Susan Tyre, at 252-789-4370.